More than any film in recent memory, Rian Johnson's future-noir time-travel film, Looper, has stuck with me long after its final credits rolled, in part because of its dramatic final sequence, one that genuinely shocked me (and which I'll only discuss in detail below the fold to avoid spoiling it for others). But as Roger Ebert notes, the final scene displays a scriptwriting ingenuity that shows that Johnson has thought carefully and creatively not only about the paradoxes and logical problems of time travel but also about our psychological fascinations with it, about the desires and regrets that come into play when we entertain the possibility of confronting an older–or younger–version of ourselves. Add on Johnson's rich appreciation of film history and genres and the movie's subtle political sensibilities, and the result is a fascinating and compelling film that I plan to revisit soon.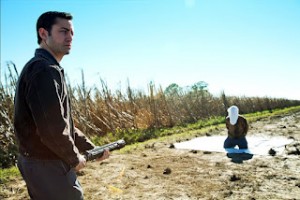 Johnson has devised a relatively original time-travel premise: in the year 2044, young Joe (Joseph Gordon-Levitt) is a "looper," a hired gun paid by a futuristic organized crime syndicate to murder people sent back in time from the year 2074 and to dispose of the bodies. Strapped to the back of all of the victims is the payment for their services: a set of silver bars (Judas's 40 pieces of silver come to mind) that are, in turn, converted back into cash by Abe (Jeff Daniels) who has traveled from the future to direct his team of loopers. Eventually, when a looper shoots a victim and discovers that he has gold strapped to his back, he realizes that he has shot the older version of himself and that his contract as a looper has been completed. The victims typically arrive wearing handcuffs, hoods and in some cases orange vests, which as the Film Doctor points out, causes the victims to resemble detainees in Abu Ghraib and Guantanamo.  These discoveries lead many of the loopers to experience varying degrees of dread and shock as they discover that they have essentially witnessed their own (future) death. The twist in young Joe's case is that when old Joe (Bruce Willis) arrives, he isn't wearing the hood and young Joe recognizes himself, hesitates, and eventually is unable to pull the trigger, allowing him to confront the older man he becomes.
This drama is set against a futuristic world that is quite obviously commenting on our own. Like many futuristic noir films (Blade Runner, Strange Days), the problems of the future can be seen as having roots in the present. Cities are industrial wastelands in which the young a wealthy loopers luxuriate in the excesses of their wealth, partying at a strip club and driving expensive cars while others are left to dystopian city streets or to survive off the land like Sarah and her son. It's as if we are hurtling back into a world in which basic survival appears to be our only option At the same time, the film seems to revel in its cinematic allusions–cream swirling into a cup of coffee recalls Godard; a beleaguered and battered Bruce Willis evokes his performance in Twelve Monkeys, another film that reminds us that time travel–and the possible confrontation with our past selves–would likely be the source of profound trauma; and of course, North by Northwest, with its magnificent, if somewhat wilted and dying cornfields. But there's also a heavy does of the western, especially The Searchers. These references and the overall world of the film help to set up that Johnson has more on his mind than action formula. Instead we get a film that engages with some pretty profound ideas through the psychology of the time-travel confrontation [note: spoilers may follow].
Read the rest of this entry »