The "Texts from Hillary" Tumblr exploded on the web several days ago–Rachel Maddow mentioned it on her show several days ago–and I've gone back to the site several times when friends mentioned it on Facebook, but I think it's worth discussing in detail because it seems to illustrate some of the ongoing changes in political parody.
First, like the Downfall Meme, I think the Texts from Hillary meme is extraordinarily flexible. It can be used to riff on any number of current events and celebrity personas. Recent posts have parodied Jon Stewart, Maddow (possibly a shout-out after Maddow praised the site), and Mitt Romney. More crucially, it illustrates how Clinton's political persona has been redefined after her epic primary battle with Barack Obama during the 2008 election. While Clinton was depicted as out-of-touch and harsh, the meme redefines her as embodying what Benjy Sarlin of TPM calls a new form of "badass cool." The image of Clinton on a military jet, wearing dark sunglasses, and examining her Blackberry can now be re-read to suggest her political authority, at a moment when Clinton now maintains high popularity with both Democrats and Republicans. Perhaps the best illustration of this badass cool is the following text exchange: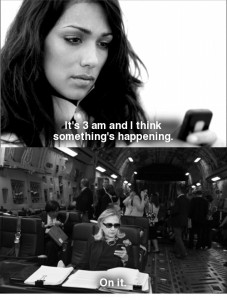 What this post also illustrates is the degree to which these political parodies continue to rely upon intertextual references. The 3 AM reference recalls an advertisement in which Clinton attacked Obama's lack of experience by imagining a 3 AM phone call and asking whether voters trusted Obama to handle the situation. The ad was widely parodied as being too harsh and threatening, but now, it has been reworked to fit within Clinton's jet-setting, confident style. I'll be interested to see if (and how) the meme endures because it seems to be a powerful illustration of how political meanings can shift over time. Oh, and because it's really fun.
Update: FYI, now Clinton is submitting her own contributions to the Texts from Hillary Tumblr. Very cool.