Given my interests in the intersections between politics, humor, popular culture, and social media, I found the responses to Clint Eastwood's bizarre, ad-libbed campaign performance art at the Republican National Convention to be completely irresistible. In case you missed it, the Hollywood icon (whose movies I admire) gave a 10-minute speech supporting Mitt Romney in which he lectured an empty chair meant to represent current president, Barack Obama, asking "him" questions about why he has failed to deliver on his campaign promises. From a conservative perspective, there's probably a valid point embedded in the speech–Obama as empty suit or whatever–but the impromptu nature of the talk has made it the subject of widespread mockery on the political web.
To some extent, the mockery derives from the fact that Eastwood's performance before the RNC departs so radically from his star persona as a tough-talking Dirty Harry-type. Instead, the bit accentuated his age, a perception that was probably reinforced by his slightly disheveled hair and by the fact that he was ad-libbing and often seemed to be searching for the right words. The performance also departed radically from the rest of the RNC, which appeared to be tightly scripted, a perception that is mocked in this Photoshopped image from The Simpsons showing an altered headline in which Abe Simpson "yells at a chair" (the original if I recall says "cloud" instead of chair).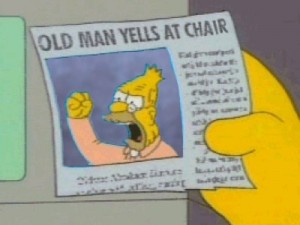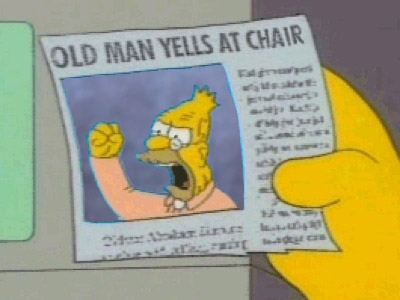 But as Chris Becker documented in an indispensable post on her News for TV Majors site, there were literally hundreds of tweets and Facebook posts that showed up within seconds of Eastwood's appearance. One of the most notable was the appearance of the Invisible Obama Twitter feed, which was created during Eastwood's speech and which now has 45,000 followers less than a day after the speech (one of "his" best tweets: "Someone should tell Marco Rubio he's standing on my foot right now"). Eastwood's speech also provided an excuse for celebrities to weigh in with both supportive and humorous content, all of it documented by Entertainment Weekly. Among the best remarks was Seth Myers' "props" to Eastwood for bringing down Twitter. Even the Obama campaign got in on the act with an amusing, if slightly smug, tweet showing Obama seated in the Oval Office, saying "this seat's taken."
But one of the more common responses has been the practice of having a picture taken of a person pointing to an empty chair and acting as if the subject is lecturing it–a practice that has quickly become known as "Eastwooding," although many of them feature pets and even children. Ana Marie Cox has identified this picture as the "original" Eastwooding image, but in any case, the empty chair has now become a key signifier in the political blogosphere, one whose meanings will probably take some time to settle into place (although I think the Abe Simpson image probably tells us the direction this is heading).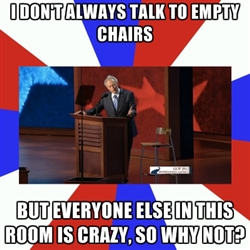 Finally, there is another Invisible Obama meme, one that features a photograph of Eastwood gesturing toward the empty chair with a red, white, and blue background. The Meme Generator allows people to enter their own text to create captions that comment on Eastwood or use his performance to make a commentary on politics. On a brief glance at most of the images that have been generated, they are generally anti-Romney or anti-Republican. My favorite so far actually makes reference to another popular meme, the "Most Interesting Man in the World" images that mock or make use of the character from the Dos Equis advertisements. The Meme Generator is especially interesting to me in that it readily invites the participation of others who may have limited coding or video editing skills. It also fascinated in that, like Twitter, it benefits heavily from verbal dexterity, even while participants have the ability to riff of a specific image, creating an incredibly low barrier to participation (although, in an odd sort of way, it doesn't seem that remote from the longtime New Yorker contests inviting readers to provide captions for its cartoons). Facebook and Twitter users can also share and comment on many of these images without having to create new ones themselves, so that provides another important layer of participation.
I've been fascinated by political memes for a long time, in part because they invite citizen participation, but also because they allow untapped political meanings to gain expression, often through coded language associated with popular culture. Most of these Eastwood memes show a fluency with popular culture that invites sharing–they've also attracted the attention of George Takei, which never hurts–so it'll be interesting to see how the Eastwood meme plays out over the next several months.