Last night's debate left us with two or three comments that will endure throughout the election season and beyond, but none will likely have the staying power of Mitt Romney's remark that when he was seeking out job female applicants his staff brought him "binders full of women." On one level, it's easy to read Romney's remarks as a slip of the tongue, but on another the comment seemed to confirm the viewpoint that Romney is a jerk who is oblivious to women's needs.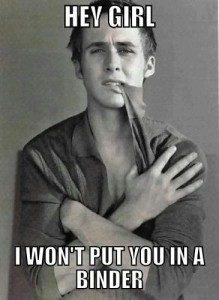 In her debate post, Amy Sullivan details the ways in which Romney ("Mitt the Man") came across as insensitive to women, and the binders comment–which only came out when Romney was trying to avoid answering whether he supported the Lily Ledbetter Fair Pay Act–has provided a shorthand for expressing that sentiment. Within minutes of of the comment (as CBS News reports), there were Twitter feeds (@RomneyBinders had 33,000 followers by Wednesday afternoon) and Tumblr accounts where many of the Romney binders images were posted, suggesting that the comments provoked a fair amount of outrage.
In keeping with the current election-year rhetoric, many of the Romney binders relied upon existing internet memes in order to make their political points, ranging from The Most Interesting Man in the World to a revival of the "texts from Hillary" meme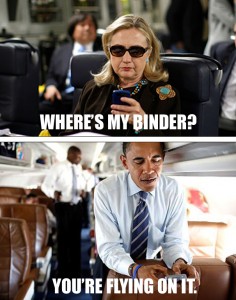 (via That Wren Girl) and even a riff on the Ryan Gosling meme (borrowed from MoveOn's Facebook page). Many other posts from the Binders Full of Women Tumblr use images of recognizable celebrities in order to mock Romney or tie his comments to misogynistic aspects of contemporary culture. In one image, Romney's comments are aligned with Hugh Hefner and in another with John Cusack, and in probably my favorite, with the movie Dirty Dancing. Although these posts may not constitute an entirely politically coherent response to Romney's remarks, they do help to make visible Romney's lack of concern for a number of women's issues (including his non-answer on the Lily Ledbetter question). Further, because of the popular culture associations–with TV, film, and other internet memes–many of these political expressions are instantly accessible.
In addition, these images help to reinforce the idea that the 2012 election's media format is that of the image macro, a picture superimposed with text, usually with humorous intentions. If 2008 was the "YouTube election," then it might seem odd that static images would make such a comeback, but I think there are a few reasons that this is happening. First, the role of Tumblr, Twitter, and Facebook in this election eclipses what was happening in 2008. More people are sharing political information than before, and thanks to Twitter's associations with micro-celebrity, more people are attempting to create clever responses to debates and other political events in order to achieve (very) temporary fame–a tendency that The Onion beautifully satirtized in a post anticipating the second debate. Second, image macros are more instantly accessible than video mashups, even while using some of the same principles of montage and associative editing that Richard Edwards and I discussed in our article on some of the more popular mashups from 2008, including "Vote Different." Image macros are fleeting; they can be viewed more easily than videos. Richard and I argued that mashups created meaning through the clash (or meshing) of popular and political culture imagery, and most image macros follow this same logic. More crucially, they have a much lower barrier to entry in terms of their production in that virtually anyone can go to a Meme Generator site, post or (more likely) borrow an image, and then add the necessary text to create their contribution to a meme. Video editing, on the other hand, requires a much more significant investment of time on the part of the creator. Thus, rather than taking several hours to painstakingly piece together multiple clips from a movie with a political speech, meme participants can get something posted literally within minutes, shaping the response to a debate even before it has finished.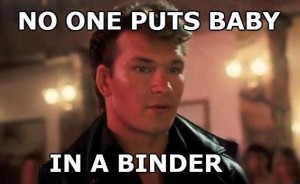 This might produce some anxiety about critical distance or a fear that we may be relying too much on snap judgements about who "won" a debate. But I would argue that these fleeting political comments actually open up the debates to greater scrutiny than ever before. And the "Romney binder" meme has, in fact, opened up Romney's record for hiring women, and it turns out that his record isn't that great. It's difficult to predict whether a political meme will endure. Eastwooding seems to have faded relatively quickly even though it was able–briefly at least–to integrate itself with older, more established memes. Still, as a moment of crystallizing a political truth, these populist forms offer a fascinating, lightning-quick mode of expression.
Update: Tama Leaver gave a talk at this year's Internet Research Conference that mentions this post–talk about up-to-the-minute research–and makes a useful distinction between "trolling," which he defines as disruption for the sake of disruption, and "image macro politics," which can work as a form of online activism or engagement. But even as I review Tama's presentation, I find myself wondering whether "meme election" might be better, especially given elements such as the Paul Ryan Gosling Twitter account, which borrows heavily from the logic of "remix politics" but also makes only limited use of images or image macros.