Harmony Korine's Spring Breakers follows the exploits of four bored coeds as they embark on a dream trip to Florida, where they hope to escape their dull and confining lives. They arrive in Tampa to discover a world of debauchery, drinking, and drugs set against a backdrop of brightly-colored bikinis and sunny beaches and pumping hiphop and techno score that seems to fulfill their fantasies of escape and transformation, even while it visualizes the nightmares of any parent with teenagers who are worried about the behavior of kids today.
This plot description initially would seem to set the stage either for a film that exploits its female protagonists or one that functions as an implicit critique of a materialistic, excessive, and shallow youth culture bent on its own self-destruction. Add the fact that three of the Spring Breakers in question are tween stars Ashley Benson, Selena Gomez, and Vanessa Hudgens, and such readings (like Jackie Cooper's complaint that Korine is celebrating the excesses of Spring Break) are even more tempting.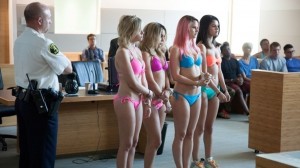 But these readings place too little emphasis–or seem confused by–the second half of the girl's journey when they are arrested in a drug raid when they are doing cocaine during a hotel party. During the trial, they are bailed out by a cartoonishly excessive white, corn-rowed, drug-dealing hip-hopper who goes by the name of Alien (played by James Franco). The image of the girls, standing in front of the judge handcuffed, still wearing their day-glo bikinis visually emphasizes their vulnerability and the recognition that their utopian fantasies of transformation have been disrupted. And here, the film begins to take unexpected turns. Alien show sympathy for the girls' plights, even while his excesses frighten the more religious Faith (Gomez). But the other spring breakers find themselves embracing and emulating Alien's bravado, even to the point of engaging in some gunplay themselves.
These readings also seem to be unsure of how to engage with Korine's playful engagement with the culture of images. Like Stephanie Zacharek, I do think that Korine's depiction of the excesses of Spring Break have an air of superiority about them, even while relishing the ability to indulge in that depiction. But it's the film's fascination with guns (and their relationship with phallic power) that seems oddly crucial to the girls' fantasies. This motif is recurrent throughout the movie. During the opening scene–in a college lecture hall, with seemingly hundreds students sitting bored behind laptops–two of the spring breakers draw pictures, one with a heart with the message "I love penis" inside it and another with a crudely drawn penis.
Later, these same girls commit their first crime, a robbery of a local chicken shack where they use squirt guns to frighten the customers and workers into giving up their money. Eventually, the girls pick up some of Alien's incredible arsenal of guns, pushing these connections to absurd lengths. Instead of girls gone wild, it's something closer to girl power gone wild. Like Glenn Kenny, I was fascinated by the "gendered role-reversal" here, but I'm still not convinced that Korine completely sustains any fully meaningful observations here. I'd also agree with Kenny that the set piece involving Franco's Alien singing Britney Spears' "Everytime," while playing a white, poolside piano, the spring breakers dancing alongside, seems a bit too obviously "critic bait." Still, Korine's consciousness about the culture of images–especially as they are shaped by the personas of its young stars–makes it hard for me to dismiss the film completely.
Alongside of this critique, Spring Breakers also seems to be about the desire for transformation. Faith seems to be trying to break free from a restrictive religious culture, and the other girls also imagine that their spring break trip will allow them to reinvent themselves. In that sense, I think Korine is not engaging in a generation critique of kids today but tapping into or exploring how these fantasies of transformation operate and contribute to the culture of excess depicted in the fim.
Update: I think Michael Chaiken's review brings together the multiple threads Korine is weaving together–the cultures of excess and materialism and the fantasies of power and materialism–in a pretty insightful way.