In order to celebrate our first New Years Eve together, it only made sense for The Best Girlfriend Ever and I to do something extravagant together, something a little crazy and excessive, and maybe a little goofy, too, so once we realized that I would be in Philadelphia for the MLA conference, we decided to take the short train ride to New York to spend New Years Eve in Times Square, waiting for and eventually watching the ball to drop. Â Because the Times Square event–not to mention Times Square itself–is so hypercommercialized and sanitized to the point of inoffensiveness, unless you have an aversion to lots of flashing lights, I wasn't especially excited about the performances or the hosts who would be orchestrating things, but as a media studies scholar curious about how these kinds of ritual events are manufactured and how users negotiate them. Â It was a form of participatory field research, albeit one that required wearing lots and lots of layers of clothes. Â But it was also a way to spend a fun, exciting night with my girlfriend, so even if it meant several hours of Seacrest, Daly, et al, I hoped that we could at least have a story to tell–and if we were too cold, we could always find a nearby bar and bring in the new year there.
Thanks to several friends who had spent time in New York, we learned that we would have to arrive at Times Square at around 2 or 3 PM in order to get a decent view of the ball dropping.  This is probably true for the most part, although a small group of Russian tourists showed up at around 11:30 PM, so perhaps there are ways of sneaking in at the last minute.  But because of crowd control issues, police would allow people to leave the penned off areas, but it was less clear whether they'd let you back in.  Which meant no bathroom breaks, no trips to nearby pizza joints or coffeehouses, no chances to run into nearby hotels and warm up.  Andrea and I arrived at around 2 PM, had a slice of overpriced pizza and, almost without recognizing it, found ourselves in the middle of the pen at 46th and Broadway, directly in front of the Marriott Marquis and next to the Nivea stage where the hosts–Nick Lachey and a female host I didn't know–would stand.  Off in the distance, down the hill was the stage where Jennifer Lopez and American Idol rocker Daughtry would perform later in the evening.
The first few hours consisted of enforced waiting in cool, damp weather. Â It had snowed a little–about four inches–that morning, at least in New Jersey, where we were staying. Â And later that night, we got a little more frozen participation, which changed into a cool mist, but most people stuck it out despite the elements. Â Probably the most difficult aspect of the event was the lack of food. Â If I were to do the Times Square event again–and I likely wouldn't–I would bring more food and, especially, water. Â After 2 PM, our diet consisted of: a cranberry muffin, four chocolate-covered pretzels, a Fiber One bar, and a lollipop (all shared). Â The event's organizers made some effort to alleviate crowd boredom, tossing out balloons and hats to the crowd at various points, but much of the afternoon and evening consisted of extended waiting, talking to people standing nearby, and as the evening wore on, some dancing to top 40 and older dance tunes piped in over speakers.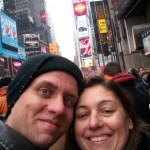 Oddly, despite the depiction of the NYE event as a kind of giant concert, there was very little live music to be witnessed. Â A couple of generic pop musicians I'd never heard (or heard of) performed a couple of songs around 8 PM. Â A few minutes later, Jennifer Lopez did a couple of songs wearing a black body suit (and there was some debate about whether her music was "live"). Â From our position on Broadway, we could see her hair swinging in the air on the stage below us, but most of the performances we saw were shown on a giant screen immediately below the ball. Â The most memorable visual stimuli, for me, were the lights, the commercial noise that is part of the normal fabric of Times Square (and sometimes reminded me of that shot of Tom Cruise in Cameron Crowe's Vanilla Sky), and the constant image of people holding up cameras, for both still photos and video, although this is a relatively common image in the tourist centers in Manhattan, of course. Â Speakers would occasionally invite the audience to raise a "virtual glass" to toast the New Year (using an iPhone app, no less) or would advertise for the company that designed the crystal on the ball.
As the night wore on, making it until midnight became a kind of endurance test. Â I joked at one point that it felt a bit like a marathon. Â Jennifer Lopez came out again, this time wearing a brownish body suit that apparently looked like it was transparent, and performed again. Â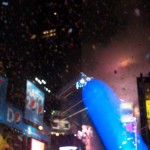 A Jay-Z video received its premiere. Â More waiting. Â Finally, as the clock loomed closer to midnight, it became easier to embrace the collective sentiment that makes such an event possible. Â The tourists that were smoking and dancing obnoxiously nearby become a little more charming. Â Umbrellas are shared, and the vague sense of hope associated with new beginnings becomes a little more evident. Â And then, as the clock begins to count down the last minute of the year, it's difficult not to share in the excitement. Â Although it's difficult to see the ball dropping live, even from our relatively ideal position, the falling confetti seems to fill the sky.
And then, within minutes, most of the crowd had dispersed, many of them, if the lines at most of the city's pizza places are any indication, as hungry as we were. Â I probably would not do the New Years Eve event at Times Square again. Â Once is enough. Â Although the final countdown was fun and the company was wonderful, it's also tedious, with lots of empty time and waiting (at least, in my case, the company was good). Â The "live" audience, in many ways, sees quite a bit less than the audience at home, at least in terms of live music. Â While in the pizza place, I looked up at the TV and caught a Green Day performance–I'd hoped to see them live, at least, after hearing that they would be playing on one of the stages. Â But seeing the event live also helped me to see how the event is staged for the audience at home, how the viewers at home are the true "audience" for the shows, while the crowd activities become a part of the show.