After reading about scribblingwoman's frustrations at the "Which Book Are You?" quiz, I decided to take it one last time. I'd been scoring out as Vladimir Nabakov's Lolita, a great book, but a little unsettling as a self-representation. On further review, I found out the book that best "represents" me is…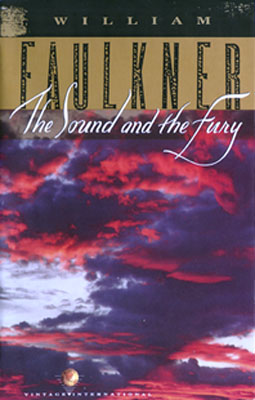 You're The Sound and the Fury!
by William Faulkner
Strong-willed but deeply confused, you are trying to come to grips
with a major crisis in your life. You can see many different perspectives on the issue,
but you're mostly overwhelmed with despair at what you've lost. People often have a hard
time understanding you, but they have some vague sense that you must be brilliant
anyway. Ultimately, you signify nothing.

Take the Book Quiz
at the Blue Pyramid.
I actually did my senior thesis on The Sound and the Fury and my MA thesis on As I Lay Dying, so I found this choice to be perfect. Then I read the decription. "Deeply confused?" Hmm… "Overwhelmed with despair?" Say what?
The good news is that scribblingwoman's comments led me to Maud Newton's blog where she discusses her appreciation of Faulkner's novel, specifically Quentin's meditations on time, which is what attracted me to the novel in the first place.